Action Packed Week
5:58 PM
I have loads and loads of things to say today 'cos this week has been totally action packed. And with my limited computer time, I don't know if I will be able to say ALL that I want to say in time so, I'm gonna do my best to stay on task and not start digressing like I usually do. Which explains my super duper long blog entries. The reason is mostly 'cos I disgress too much. I have no idea WHY I do that but... OH, WAAAIT!! See, I'm already starting to digress! No, no, no! Focus time! Alrighty, peeps, here I go!

Okay, first and formost, Anderson Theatre Circle has finally gotten their SYF results. Actually it was much faster than we expected it to come. Which was a bit of a shocker for us, really. Jen and I thought that it was some sort practical joke. And the worst part was that I never knew that we were getting our SYF results that day (which was Monday) until that day itself. Most of the other ATCians already knew this!! I was like WHAAAT?! I got the shock of my life, lah, that morning! I guess it must've been a blessing in disguise 'cos I probably would've thought about the whole thing the whole night and have barely any sleep. So, although the whole thing came to me as a shock the next morning, I think I would've slept much worse if I did know. Right so, anyways, we were supposed to meet up after school and Mrs Kamal would tell us the results. This would've been TORTUROUS for me!! I would be thinking and contemplating. Jenny was already contemplating the results. Everyone was. To be honest, I was hoping for a Gold With Honours. 'Cos I thought we had to maintain our standards. Then, suddenly, Mrs Kamal asked all the ATCians to meet immediately after assembly!! Things were moving SO fast. The next thing I knew, we were all gathered around Mrs Kamal and Jenny, Dinah Bee and I were practically crushing each other's hands in anticipation. And you all know Mrs Kamal, she likes to keep the suspense so, she went one WHOLE BIG round before finally getting to the point. And when she did... Anderson Theatre Circle got GOLD!! There were cheers when she said it, mostly from the sec threes and lower sec. The sec fours just clapped. We aren't like REALLY disappointed or anything. There were only two Gold with Honours to be goven out. But we aren't really THRILLED either 'cos 18 other schools got Gold as well. But I suppose it could've been worse. So, yah, we're content.

On Wednesday, all of the upper sec got to go and support our basketballers during their finals. I was sooo looking forward to it, lah! Although, I was quite alone that day. I felt that Anderson was really spirited that day. We came there to KICK BUTT and we did. Actually, we were quite worried 'cos the last we went to the finals. It was also against Raffles Girls School and we suffered a defeat. However, this time, we were out for revenge. We went there ready. I was super excited. Diyanah and I were havoing butterflies in our tummies and we weren't even PLAYING!! I love going for matches 'cos I love cheering for our team. And everyone in my class knew that I was gonna be LOUD and ENTHU about the whole thing. I can't help it, lah. How can you NOT?! The atmosphere was so tense and I really, REALLY wanted us to win and not them. I cheered my lungs out and Sharleen, Yimin, Shamini, Keetha, Fiona, Joanne and Yoke Cheng were all laughing at me. But then, they too got really into the game. We were in the lead by quite alot at first. That's what happened the last time too. RGS usually get their game on nearing the end of the game. And before you know it they were catching up really fast. I was soo worried. I wanted the game to end while we were in the lead. I saw some farmiliar faces on the court like Tanya (who was super cool) and Stephanie... SHE was really, really good. Stephanie was like a pro captain!! I could see her being all calm and level-headed. She was a great leader. Never knew that about her. Totally impressed me! The Anderson Team was in fighting form. We scored many 3-pointers which always blows my mind. I have NO idea HOW they can do that!! I took some pics of the whole event. Here they are: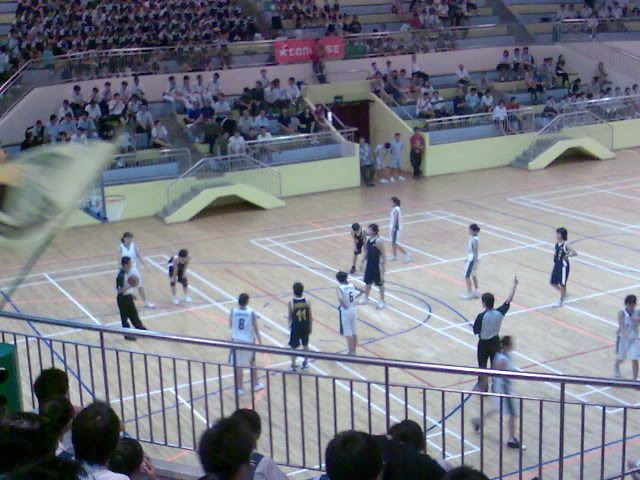 Here's a picture of all the supporters. We were SUCH a huge group, lah! We occupied exactly one half of the whole stadium. Dinah Bee and Mastura became our School mascots. Dinah was super funny. She ran all over the stadium with the Anderson Flag!! And we did the Kalang wave along with it. It was hilarious!!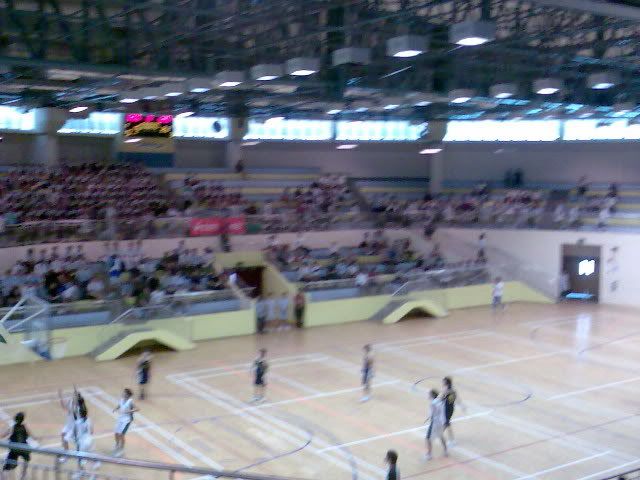 This was the RGS side. They brought much lesser supporters than they did the last time. But they were really loud for such a small group. Kudos to them.






It was a rough game. Loads of pushes and shoves but our girls are TOUGH!!






End of each quarters. This was the time andersonians will start doing all sorts of cheers.







If you're wondering why I took a picture of a box of KFC chicken. It's 'cos I was laughing my ass off when Zhi 'An, Hai Huang and Jay were relishing while we were all screaming for our Anderson Team. They were so funny. They were commenting on the game and clapping but their mouths were munching at the same time. If you're now wondering HOW they got their hands on KFC crispy chicken in Toa Payoh Stadium, the answer is that Zhi 'An ordered KFC for the class and they delivered it to school. There was a big fuss that happened 'cos of this but I'll tell y'all that another time. Then, we brought it to the stadium and had scrumptious snacks while watching a super exciting game. Zhi 'An's antics never fail to amuse me! =P

After that, half of the upper sec had to go to the Yio Chu Kang Stadium immediately. No, not for another match. But rather for our 2.4km NAPFA run. I was super pissed with myself 'cos I left my sport shoes on the top compartment of the bus. So, I had to run with my new Diadora school shoes which tend to give me blisters even when I'm walking so, I can't imagine the amount of pain it will cause me when I run in it. Along with the 2.4km run was also the sports heats for the Sport's Carnival coming up later this month. Yayy! Can't wait for the games! I was kindda agitated and nervous at the same time but I managed to run. And all my training paid off!! I finally got my A in long-distance running! My timing was 13.32mins. This meant I'll be getting my GOLD!! Yayy!!

Standing Broad jump : 186cm (B)
Sit-and-reach : 47cm (A)
Sit-ups : 40 (A)
Pull-ups : 26 (A)
Shuttle run : 10.5secs (A)
2.4km run : 13.32mins (A)

But then, the heats couldn't be completed 'cos it started to POUR!! As in literally!! I just took ONE step outside the shelter and I got drenched to my undies. So, I got soaked while on my way to the Yio Chu Kang Mrt station. It was a total thunderstorm. Thunderstorms have been happening quite frequently recently. I'm not really likeing it too much. It's getting wither too humid or too cold.

Last Sunday I went for my mum's friend's birthday party. Remember the one I told you about? Ya, well, it was at Bayview Hotel and getting a cab there is a NIGHTMARE!!! We reached home really late and it's 'cos we spent practically an HOUR waiting for a taxi to come our way. We ended up taking the bus home. It was really weird for me 'cos I was wearing my formal dress and all. We were all so dressed up and everyone else was just staring at my family. Unglam but at least, I got to sleep my way home. Oh, here's the dress I was talking to y'all about!!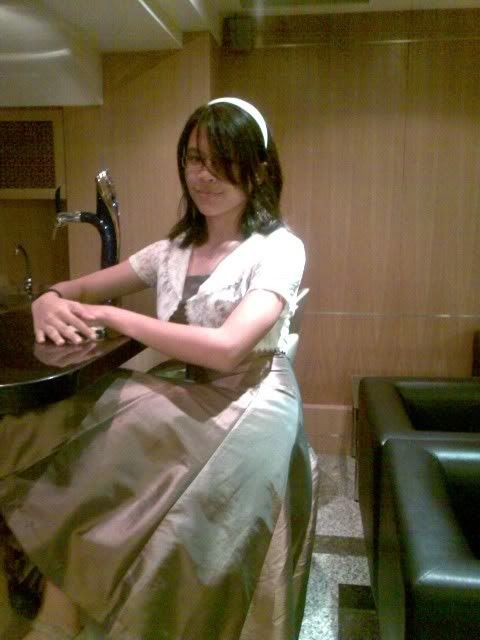 It's all swishy and nice. I love that dress. =)


Oh, oh!! I almost forgot the most hilarious yet traumatising incident that happened this week. First, look at THIS...






Doesn't it look mouth-watering? It's chocolate which Mrs Ashari gave us as a prize for some quizes. To the Lit pupils, however, most of us would probably cringe at the sight of these bars of chocolates. Why?? 'Cos these aren't ordinary chocolates. We found that out the hard way during English lesson. Keetha was about to share her chocolate with Fiona when I heard a gasp ( I sat beside the two). I was like, "What?? What??". Keetha looked so traumatised and she said, "THERE'RE WORMS IN MY CHOCOLATE!!!" I almost fell off my chair. I didn't believe her but true enough, I saw one or two maggots crawling in the bar of chocolate. I screamed. We showed everone else the horrifying discovery. Then, Fiona and Elia started poking and searching through the rest of the chocolate bar for any more worms. Not with their bare hands, of course. We found five in that bar. It was SO sick!! Turns out, they were INSIDE the nuts of the chocolate (the bar was Fruit and Nut). They were eating the nuts from inside out and some of them came out. Dinah MZ totally freaked 'cos she ate ALOT of the chocolates. And she found this worm on her desk. She was wondering where it came from. NOW she knew! Everyone was kindda freaked 'cos they ate some of the chocolates. I haven't ate mine yet 'cos I thought of bringing it home and sharing it with my sis. Instead, I just threw mine away. We showed Mrs Ashari who was completely horrified and promised to replace them with EDIBLE chocolates. She gave us Kinder Bueno instead!! =) No maggots there!

More news!! Our class 4/6 finally got our class jersey this week and it looks pretty sweeeet! The workmanship is quite poor and the font and numbering was kindda mixed up with some repeating numbers (including MINE!! Mdm WONG has my number but I'm fine with it. She's cool!). But the design was overall very nice. And I'm so glad we chose maroon and white. A lot of the class tees have white bases and some designs. Except for 4/8 who had theirs in bright green. But I thought our design was different and really stood out!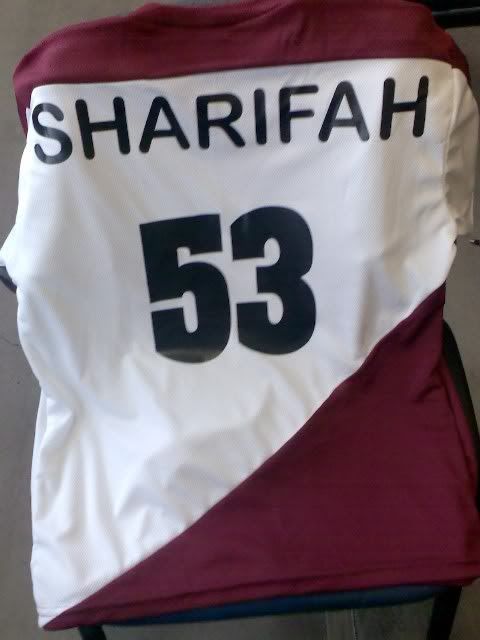 I forgot to take a picture of the front! Hahaha! I'll post the front picture next time, lah! Oh, oh! And look at this...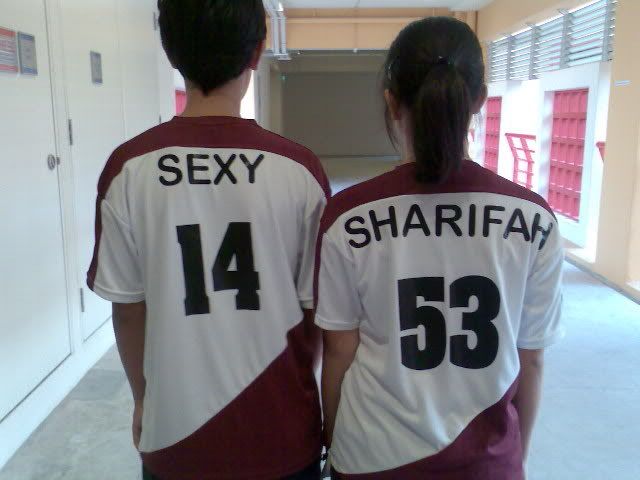 SEXY SHARIFAH!! Hahahaha! That was Akmal's jersey. Yes, he literally now has a sexy 'back'. For once Akmal was so popular with the girls who wanted to stand by his right. I bet he has never taken pictures with SO many girls! And I BET you ANYTHING that he was enjoying every single moment of it. That pervert! Hahaha! =P

I still have more things to talk about like the Malay excursion we had at the National Library (Aksara). But I'm already out of time. I'll have to continue tomorrow then. Hope everyone has a good weekend. The preps have come already. Don't get too stressed, people! (and that means you, especially, Keetha! =P)

Love to all! =)

Lovely;
Never ever change,
Keep that breathless charm;
Won't you please arrange it?
'Cos I love you,
Just the way you look tonight