Cross Country '07
6:09 PM
And sooo... Another week has gone by! It wasn't necessarily a very good week but it's not exactly catastrophic either. In fact, it was quite good towards the end. Especially with the Cross Country yesterday. Usually, I'm not into running. BUT I'd rather run around Bishan Park than spend 8 torturous hours in SCHOOL! ANYTHING is better than school right now. And I remembered that last year's cross country was pretty good. I ran with Jenny and I think we all went out after that. So, this year, Keetha and I made a pack to stick together throughout the run and keep each other's pace. So, we'll encourage each other and if one goes faster, the other will try and keep up. If one HAS to stop or slow down for a while, the other will do the same and encourage. To tell you the truth, I was thinking of trying out for top 20 this year... But I thought of all the fast runners I'd be up against like Shamini, Hannah, Dinah MZ and all the sportsy people... I decided, I'd better just enjoy the run and run with my friends. Rather than it being a competitive one, y'know?

OH! And that morning, I found out that there was this Girl from VJC (yes, my dream JC) who DIED due to overexertion during a cross country run!! I was like, "Oh my god!". Shamini told me this 'cos she was afraid that I would do something like that. 'Cos if you've forgotten (which I hope you have), I sort of fainted on the stadium tracks after the 2.4km NAPFA run last year 'cos I over-exerted myself. I was so determined to get a gold that year (I was too paranoid 'cos I got a silver the year before and I WAS NOT happy about it), that I ran eventhough my tonsils were inflammed and blocking the passageway to my windpipe. And although no oxygen was going into my body, I forced myself to sprint the last 150m on the last round and completely blacked out. I didn't know you could DIE of that!! I mean, at most you just black-out for a few minutes, right?! I was SO shocked to find out that this HEALTHY girl just DIED!! Shamini was like, "YOU better stop if you cannot run, I tell you!" and Keetha just gave me her, 'you-better-do-as-she-says-you-boob' look. But I thought the run was pretty okay. I think it's 'cos there's more oxygen in the park or something. I wasn't too tired after the 3.3km run.

In the end, Jenny, Keetha and I jogged and paced ourselves as best as we can throughout the entire run. Although we did split up at the last part of the run 'cos Keetha and I went a bit faster (so that we aren't behind afew people) and then, I sprinted the last 400m. So, that was the ONLY time that we were seperated. So, in my opinion, it was a VERY good run! I felt really great. =) The point is that we COMPLETED the run and had a sort of good time doing so.

Oh, but DURING the run, a certain German fellow from my school (whose name I shall not reveal, although you ALL already know who I'm talking about) was being a huge jerk and he was not ashamed of it. Keetha and I were cheering Jenny on. I went like, "Don't worry, Jenny. Relax, there's no pressure. It isn't a competition..." Then, this blond giant came rushing past us and went, "Yes, IT IS!" I was pissed, duh! I may have said something quite loudly, which I 'hope' he didn't hear. Something about the fact being true that big noses equating to big egos... and maybe the fact that being the ONLY german dude, in a Singaporean school, makes it so utterly stupid to pick a fight and act-big. Y'know, something along those lines... =P Some of you may think it's harsh, but that guy is REALLY getting on my nerves. Kai Xin and Yi Min helped those who were runing by taking care of our valueables and bags. They had to pile it on a bench so that they won't get dirtied by the muddy floor. And then, that boob just waltzed to the bench pushed all the bags to the floor and happily parked his ass on the bench. And so, some of our bags were muddy-fied. All thanks to the Jerk of the century. Really, someone HAS to teach that guy a lesson. Give a reality check 'cos he ISN'T superior to us, Sinagporeans, just because he is from some country in Europe. If he isn't gonna respect us, go BACK to where you came from 'cos WE don't need him here.

Right, on a lighter note, here are some fun pictures we all took during the cross country.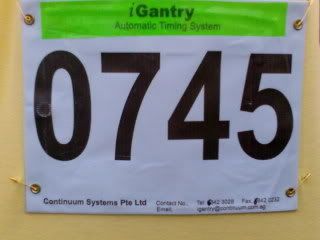 This was my number! I was so glad that my number tag had my favourite number in it... 5!! And naturally, it's a multiple of five! It's always a lucky one!! (I told you soo!)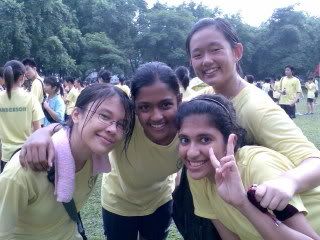 Here's a picture of Jenny, Priya, Keetha and I after the run. As you can see, we're still smiling! =) This is my favourite picture we took.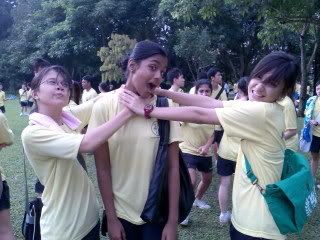 We have made it a ritual that we are to stranggle Keetha at every special occasion. Don't ask me why! It's just fun and funny! Also, we are allowed to stranggle her whenever she starts spouting nonsense such as how much chocolate cake makes her puke and when she starts naming all the food that normal people like but she completely hates. Hahaha! =P You're such a weirdo, Keetha! But we love you just the way you are!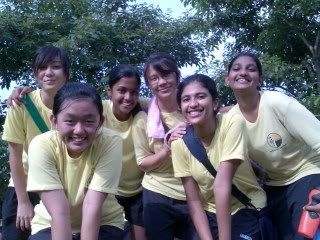 Nice pictures of all the gals.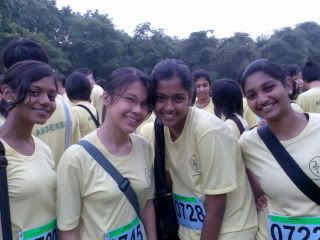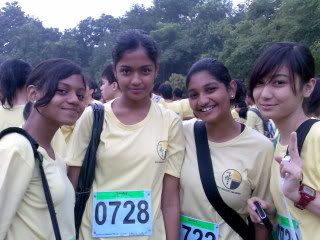 These are the pictures we took BEFORE the run. Notice how dry and refreshed we look. All the wet-looking pictures of us are all AFTER the run.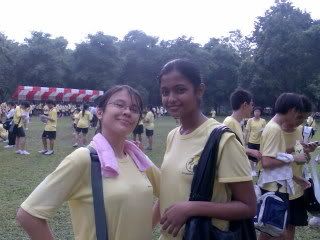 Here's me and Keetha! As you can see, I am VERY proud and triumphant that we got through the whole run with so much energy left in us. And Keetha's ... just Keetha! Hahaha!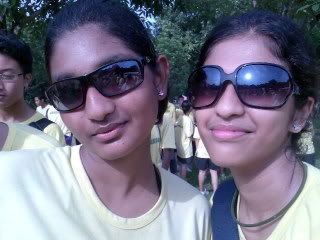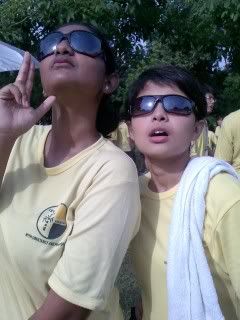 That day, we all tried out Priya and Gaya's hot shades and did a little bit of cam-whoring!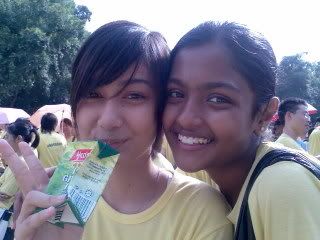 Keetha and Diyanah looking all pretty. =)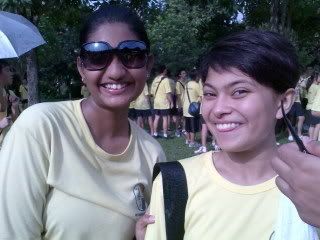 Here's Dinah Bee, being a pervert! Hahaha! Look at her cheeky face! You just KNOW she's gonna do something naughty to poor Gaya! =P




Here are the boys! Don't ask me why Akmal looks so HAPPY 'cos trust me... You DON'T want to know! *hint, hint*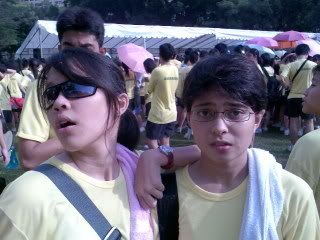 Here's a picture of the ever glamourous Kelly and her daughter, Annie! Drama peeps, y'all know what I'm talking about.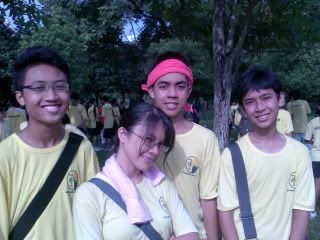 Me and the dudes. Taufiq... thinks his towel is a turban apparently. Hahaha! Act cool only that fellow! Hahaha!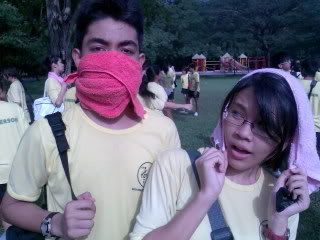 Taufiq just scares me sometimes! Hahahaha! =P No, lah, I actually tried to do the whole roober thing 'cos we were one of the few who brought towels. But my towel was too small and I ended up being a victim.

Anyway, after that, a whole group of us went to eat at J8. And after THAT, Jenny, Keetha and I went to watch The Pursuit of Happyness, the new Will Smith movie. It was such, SUCH a great movie...

Darn! I'm out of time already. Mum's bugging me to switch off the com. Alrighty, there's always tomorrow. I HAVE to tell y'all about the movie! It's so wonderful!

Have a great weekend, people!

And on the way down,
I saw you and you saved me from myself;
And I won't forget the way you loved me.
And on the way down,
I almost fell right through...
But I held on to you...