This is the week of Loooove! 'Cos the all awaited Valentine's Day was this week. And this is the week where I am most busy. February is ALWAYS a busy month for me. Soooo many things to celebrate, so little time! And every year, Dinah MZ and I would transform ourselves into the Cupids of Anderson and give this huge bunch of peeps some gifts for the big day. It's all about spreading the love! This year was especially difficult 'cos our gifts happen to take up alot of time and effort. But we wanted to do it. So, last Saturday, I went to Dinah MZ's house to bake cookies for Valentine's Day. Since, the gift is no longer much of a secret anymore, I might as well just say it. We gave our close and good friends a bag of homemade cookies and a handmade card. My close girlfriends will also get a nice stalk of Pink rose along with it.

Anyway, I went to Dinah's house and we immediately got to work. We made the dough for both kinds of cookies. We made Double Chocolate Chunk and Chocolate Chip. This is where my mutant right arm is put to good use. It took a LOT of elbow grease to mix that bowl 'cos the buter wasn't exactly melted. In fact, it was kindda hard. So, I used my super human strength and got the doughs all smooth and ready for baking. I was pretty proud of myself that no major accidents happened. I mean, I didn't get flour in my eye or spill the mixture on myself or break the mixing bowl... Those kind of accidents. And with Dinah's superb supervision and help. I managed to bake the cookies without the stove exploding OR the cookies bursting into flames because I TOTALLY forgot about them (this happened to me before... I promised to NEVER watch TV while baking for the rest of my life!). We baked for like the whole day and we still weren't done when I had to leave. Thanks to Dinah, we got it done in time. And while waiting for the cookies to bake, we did the cards. I LOVE making cards! LOVE it! I love how I get to decorate the card with all the person's favourite colours. And write all these nice messages to the person. I love making cards and receiving cards. Cards are always nice. Then, while making the cards, we also decorated the paper bags in which we are putting the cookies in (so that it doesn't look so much like a lunch bag).

Sooo after that really bust Sunday, I had a really busy Monday. Buying stuff for a special someone. But Tuesday was SUPER-DUPER fun!! Diyanah, Keetha, Shamini and I went to Far East Flora to buy flowers for... each other!! Hahahahaha! We packed our bags before EFL and IMMEDIATELY left school the moment we were released and ran out of school before anything stalls us. You know, like maybe some last-minute drama session or whatever. Luckily, we got on the bus and so far, no messages from Mrs Kamal so, we were safe. We got on the bus and Keetha told us all about the place. It sounded really great! All of us were super excited. Keetha knew the place like the back of her hand... or so she said! =P We almost missed our stop if it weren't for some Andersonians who turned out to be going where we were going.

We walked and walked and WALKED all the way to Far East Flora. I almost DIED, I tell you! It was soooo far from the bus stop! But it was worth it. The place is a bit grungy but the flowers were beautiful! AND CHEAP!! It was all stored in this HUGE room that was like MINUS 200 degrees celcius. Okay, okay, maybe I'm exaggerating abit. But it was SERIOUSLY cold! Just five minutes in the freezer room and my hands were numb. Anyway, there were buckets and buskets of flowers! All types! EVERYWHERE!! Here are some of the pictures of the flowers there.




The tulips were GORGEOUS!! I fell in love with the yellow and violet tulip and took a picture of it. Isn't it gorgeous?! (And NO, Diyanah, they DO NOT look like Alien Flowers!!) Unfortunately, it was a tad bit out of my price range. We stayed there and looked around for a really long time and were practically freezing our butts off until we finally decided on what to buy. It was tough decision 'cos everything was so cheap and gorgeous. In the end, Shamini bought orange and pink Gebreras, Diyanah bought red tulips and red Gegreras, Keetha bought yellow and purple Gebreras and I bought a dozen pale pink roses. I FELL in LOVE with those roses. It was pale pink and white around the edges. It was so sweet! And they were opened just to the right size. I just knew the girls would appreciate it! And the price was just unbelievable. It was such a bargain! I have to de-thorn the roses myself though. But it's a small price to pay for such gorgeous flowers.

And so, we paid for our flowers (this took quite a while because there was this pair of school girls with a HUGE wad of cash in their hands. They were paying for a WHOLE bunch of flowers which costed about 800bucks and they were counting the notes one by one. They were totally holding up the line. Keetha's face was hilarious, lah! She looked like she was gonna stab the girls with her stalks of her Gebreras) and decided to grab some lunch at Thomson Plaza. We walked for ages, desperately trying to find the bus stop. Diyanah's stomach was aching, my legs were aching, Keetha's back was breaking and Shamini's... Well, let's not say where Shamini was aching! Hahahaha! =P We finally found the bus stop and were relieved to get seats... Unfortunately for us, we MISSED the bus stop!! And we had to WALK back to Thomson Plaza!! So wonky, lah! Anyway, we didn't feel our 'tiredness' because we were debating on whether Diyanah saw Halim at the bus stop or was it her hunger pangs making her hallucinate. You see, Diyanah claimed that she saw Halim waiting for the bus at the bus stop in front of Thomson Plaza. So were all debating and laughing and joking around all the way to KFC where we grabbed a bite to eat. This was when Keetha showed us her new technique of eating where by she buys her self a Zinger meal takes a bite on the whipped potato and gives it to Diyanah. Then, she opened the Zinger packet and started eating the BUN of the Zinger like prata!! It was SOOO hilariously weird! And so, she ate the two buns and started on the chicken. Suddenly, while Sham, Diy and I were taling we heard sobbing and looked at Keetha. She was practically crying 'cos she couldn't finish the thing! It was SOOOOOO HILARIOUS!! She was looking all pathetic and saying, "I cannot, lah! I cannot finish this!" And so, she went to KFC to eat the Zinger but only eating the buns and leaving behind the veggies and chicken! Shamini was like saying, "Next time, why don't you just buy Bonjour bread and a can of pepsi for 2 dollars?! Save sooo much money, lah! Go KFC to eat the buns and not the chicken. Crazy, ah!" We were all laughing our heads off, lah. And so, we ought our chocolates for Wednesday and went home to study for chem and to get ready for the big day (which is Valentine's Day) tomorrow.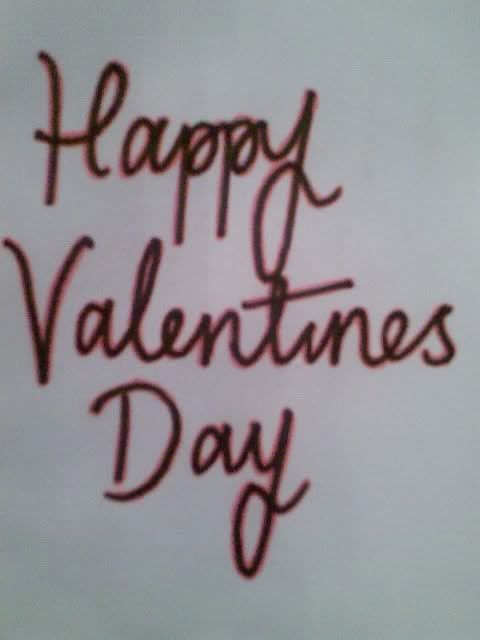 The morning of the big day was really hectic. I had hardly ANY sleep the night before because I had to finish up the cards and study for chem at the same time. It was all very rushed. But it was worth it, lah! I met up with Halim in the morning and got my first Valentine's gift of the day. Turns out, it WAS him that Diyanah saw the day before at the bus stop! He went to Thomson Plaza too! To buy a bouquet. Then, I rushed to Dinah MZ's class to get our presents sorted out and gave them out during assembly. It was really great to see people smile when we give them the gifts! I LOVE the feeling! And I gave the pink roses along with the cookies to some lucky girls. The roses were gorgeous. Eventhough my fingers were slightly swollen from de-thorning them last night. It was a tough job. Those thorns were EVERYWHERE!! But as I said, it was worth it. And I got soooo much stuff from all my dear friends! THANK YOU SO MUCH, EVERYONE!!! Then, in the afternoon, after everyone exchanged gifts and greetings, all the gals went to Junction 8 to take neoprints to commemorate this awesome day. We took TWO sets! It was loads of fun. However, it took a turn for the worst when someone stole Gaya's handphone and wallet. We then, did our best to search for it, to no avail. I hope you're okay, Gaya.

After that, I met up with Halim who had the afternoon planned out with Taufiq. They had it all planned out for Salmah and me. And we had no idea what was in store for us. We ate lunch and then, they decided to bring us for desert. I thought we were gonna get some ice-cream, like at McDonald's or something. Instead, they brought us to Swensen's. And we all shared an Earthquake.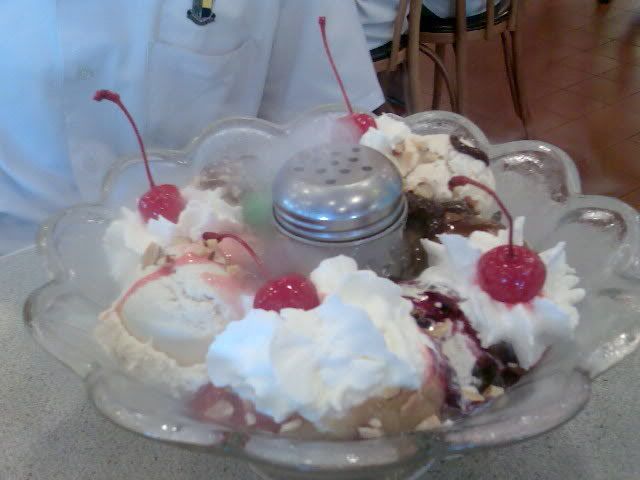 It was HEAVENLY!! And the day just got better and better from then on... Thank you so, so, very much... =)

Here are all the great stuff I got on Valentine's Day. Thanks to all my PEEPS!! YOU ALL ARE THE BEST!!!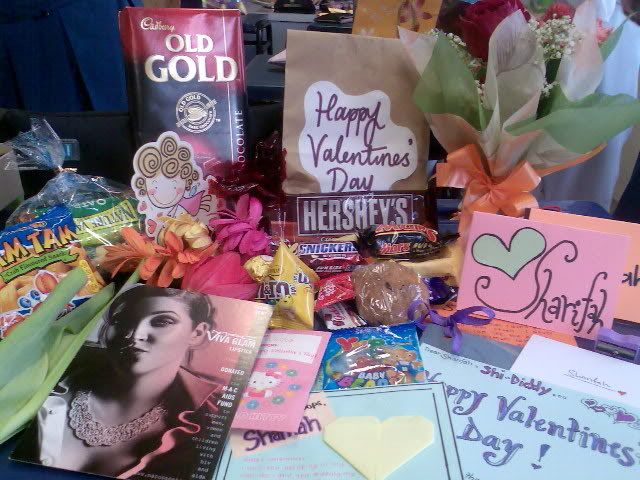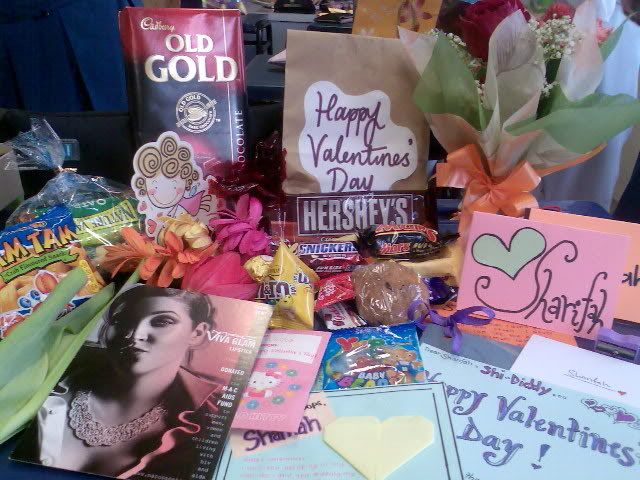 I am so blessed...

Thursday was PMS day for most people so I'm not gonna talk about it. Friday was Chinese New Year celebration day. We all had to dress up in our ethnic costumes and I always do, every year without fail. So, I'm not gonna break this tradition of mine. Here are the spastic pictures we took during our hour recess.



That's Sham and Diyanah acting cute (as usual)! Hahahaha! =P




That's me acting as the 'religious girl' being traumatised at Sham's sexy cheongsam! Hahahaha! This was hilarious 'cos the whole class was like staring at Sham's pose! She's such a seductress! =P




Me and our darling Pirollei!! He's grown SO much!! THREE leaves!! SEE!!!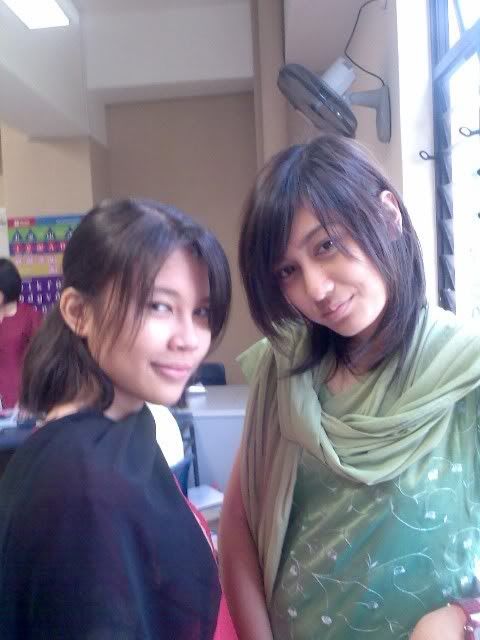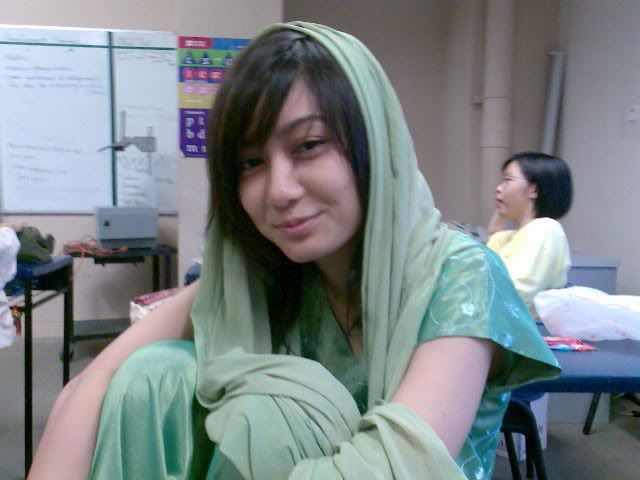 It was a short day but unfortunately, we had last minute drama session. But it was all good 'cos during the session, I got to teach Jenny, Mastura and a whole bunch of people how to dance 'SexyBack'. Jenny, you look FINE doing it, lah! Nonsense, only! I wanna teach it to all the seniors. We, ATC peeps are soooo cool! Hahaha! =P After that, I got to watch Ghost Rider. It was MUCH, MUCH SCARIER than I thought it would be. Not like haunted scary, but like zombie scary! And thrilling! I was like screaming and stuff.

Gosh, out of time already! I'll have to continue next time! I'll just leave y'all with this...