It's just afew more hours before we usher in the new year, 2007! Would you believe it?! It somehow still feels like September to me! God knows why. I think 2006 has like ZOOMED past me. It was just event after event. Once I was done with one event, I'll be looking forward to another one and then, another one... This year is somewhat eventful but the events sort of fizzled out by the end of the year.

I was thinking about how I've changed throughout the year, or if I've changed at all. Apparently, to Dinah MZ, I've grown much more girly. I suppose that's true. I appreciate shopping more, clothes more and flowers too! So, that's changed about me! Because last time, I was like some punk wannabe, who's all anti-social and stuff. I hardly go out. I would stay at home and be all emo. So, throughout 2006, I have matured into a more out-going person. I love my friends to death and I opened up to so many people this year. I've made such great friends in my class, 3/6. I remembered how absolutely terrified I was of going into a class where my best friends since sec 1, Dinah MZ, Shahidah and Dinah Bee. I was like NOOOOO!! I'm all ALONE!! But I' a survivor, man! I kept my old friends and managed to make new ones!! Keetha, Diyanah and Gaya became my close friends. And the crazy Shamini became my ditzy little sister! At first, many labelled our class as a class filled with dilliquents; The Problem Class they say. Teachers simply went, "Tsk, tsk, tsk". But I had faith in my class. Sure, at the start of the year, I thought we were like some weird rojak class, filled with different cliques. Somehow, over the year, I had grown to really like my class. And with all the events we planned as a class. I grew fond of my classmates.

The highlight of the year is, of course, our trip to Adelaide in June. I have been waiting for that trip since like sec 1!! I had never been out of Singapore other than to Indonesia. And this would be an entirely new experience for me! The people who went there with me are now as close as family to me! Especially the seniors! Special shout-outs to Keetha, Gaya, Nithiya, Taufiq, Ashwin, Prasaanth, Jen, Priya and Halim who made my 10-day stay over there so amazingly fun! I remebered how we celebrated Taufiq's birthday there. And there was the time when Jenny and I went down to the guys room to drop by a 'Happy Birthday' chocolate in front of Taufiq's room for him to find. It was hilarious. The late nights at Hotel 280 where we watched the World Cup matches, accompanied with Prasaanth's comments. I remember when we were watching Japan's match and I helped Prasaanth by saying, "And Nakata passes to Nakata, who dribbles it past the defenders and passes it to Nakata! Such great skills from Nakata! And Nakata shoots...!" That was because I only knew one football player from the Japan team and those Japanese guys all looked the same! Hahaha! Then, I remembered the 'Adult 101' which all the seniors made up. And Nithiya asking us innocently, "Who's nabeh?" I remember petting the vicious Koalas eventhough I was SURE it was gonna suck my face, all because Taufiq and Halim practically DRAGGED me into the petting zone! I remember the Lighthouse we went to, and the weather was so freezing we were all snuggling close and walking like penguins. I remember my buddy, Ashleigh, who's family was so hospitable towards me. I remember eating at the Indonesian restaurant and the guys bugging me to speak in Indonesian to the waiter. I remember shopping at Rundall mall and other malls, beaming at how many cool stuff I bought. I remember the pillow fights we had at the Hotel... Yes, Adelaide was the best experience of my life. It was filled with friendship, love and happiness.

Then, there was the Halloween Party 3/6 had. Which turned out to be such a blast. Keetha's Birthday Party too at the Siloso Beach. This year is filled with so many fond memories. Sure, it's also filled with some amount of pain and sorrow ad stress but I guess it's all part and parcel of life. I had some rough patches this year. My life was flooded with insecurites about myself, my relationships, my friends... And I can't even COUNT how many times I just felt like crying my eyes out, sometimes I DID!! There was disappointment. And lots of other depressing stuff. But on the bright side, I made it through all that. And sure, my heart is a little bruised along the way. However, I'm sure it will mend soon enough. Sure, it may hurt right now. But the pain will just make me a better and more mature person.

Also, this year, is filled with love. =) At least, for me, it is.

Here's afew random pictures taken this year.

This was the 2006 CCA Open House. We were all Gothed up and ready to scare. I love dressing up as a Goth! Hahaha! Look at us working the Camera!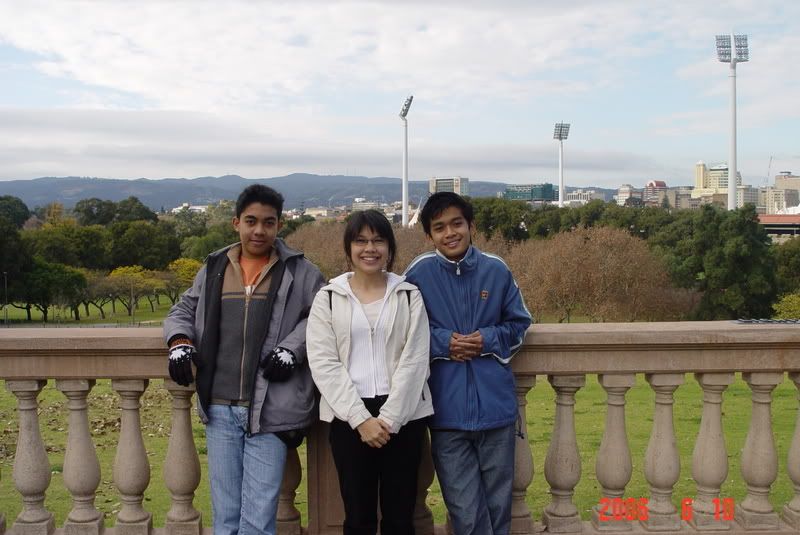 And here's Adelaide. The pictures say everything already. It was great.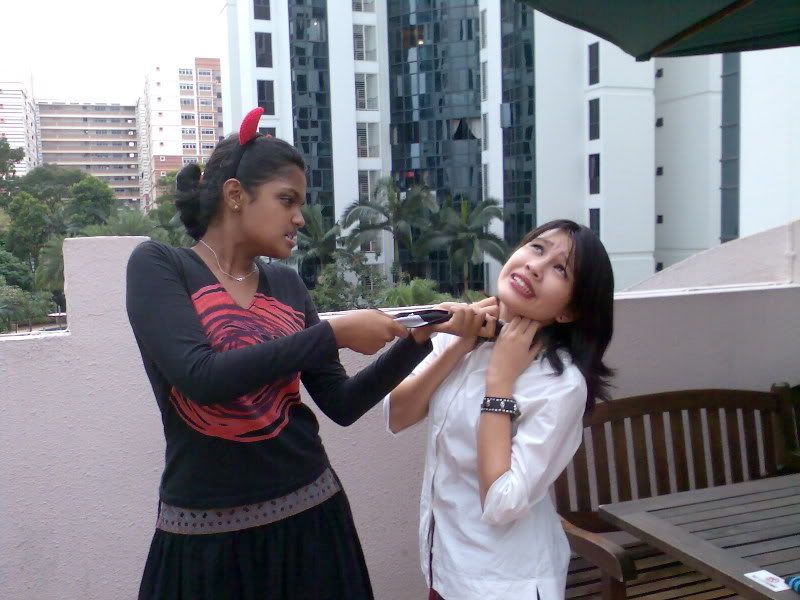 The Halloween Party 2006.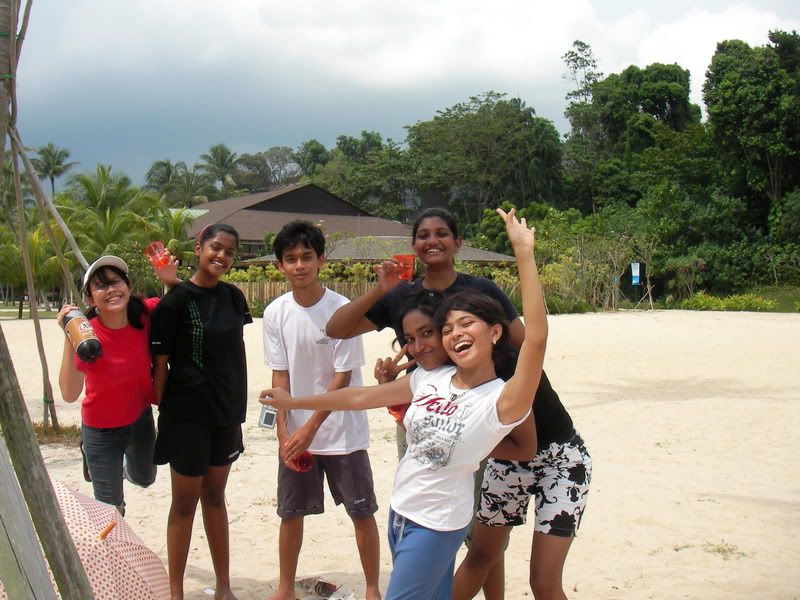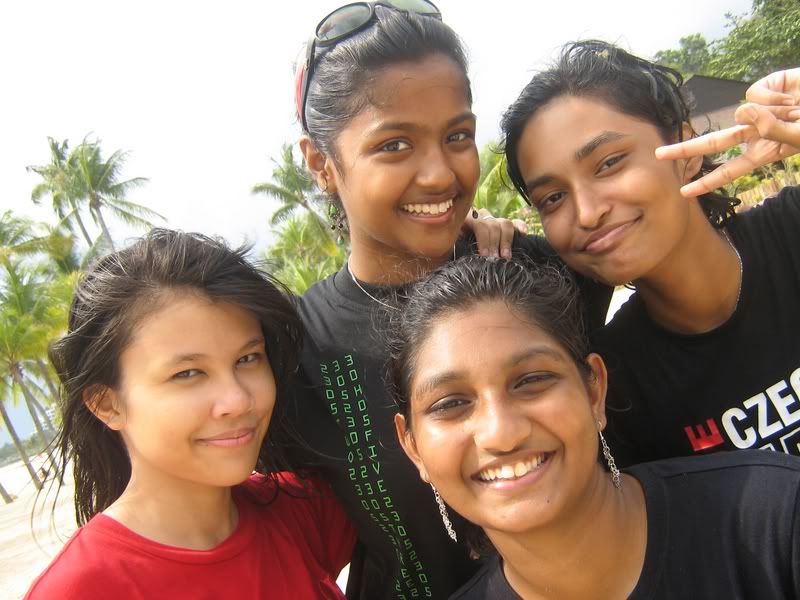 Keetha's Birthday Beach Party at Siloso.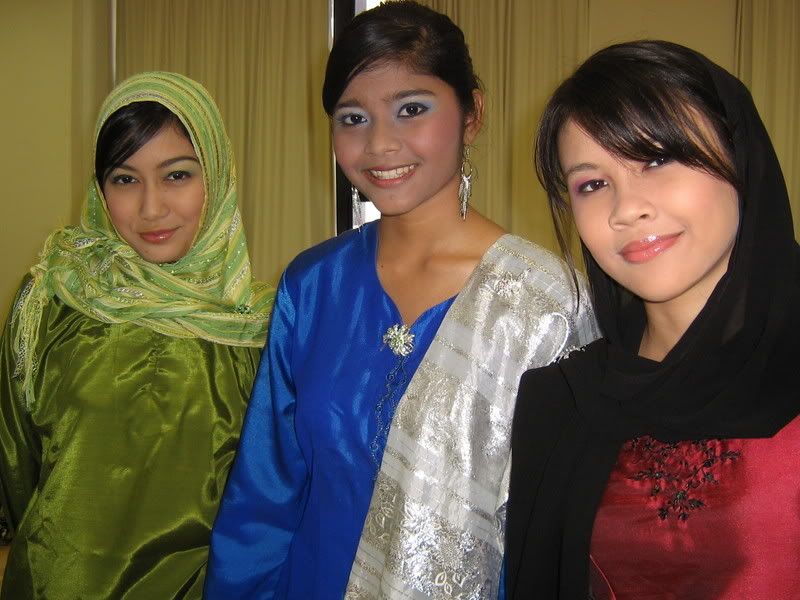 Deepa Raya Concert 2006. We only participated in this 'cos Cikgu Asnah forced us to. Still, we had fun, all the same.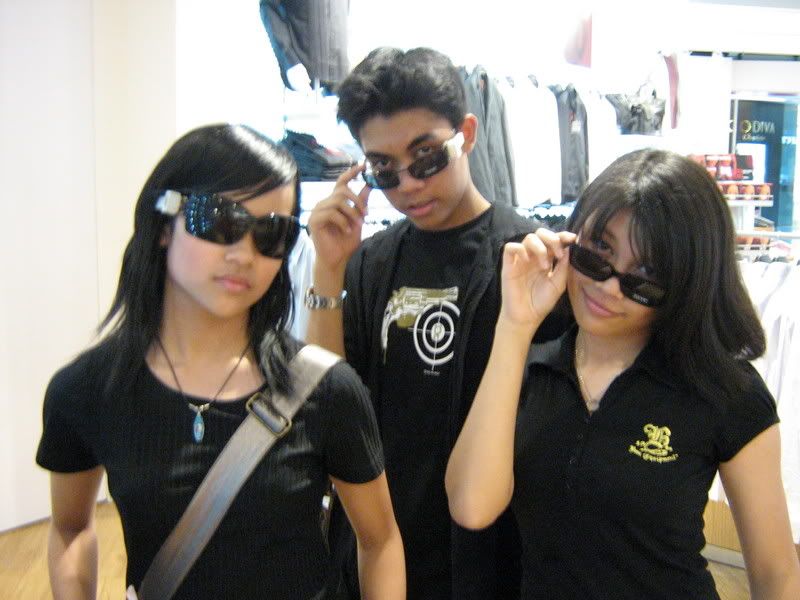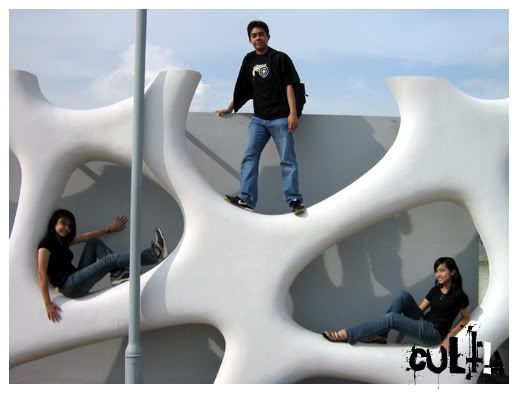 Outings with friends
I wish I could blog some more 'cos I've got SO much to say. But I'm running out of time. Let me just thank all my friends who brought so much laughter and smiles into my life. And thank you to Halim (you already know why! =P). I am so blessed.
My New Year's Resolution
1) Do well for my O'levels (meaning below 15 or 10, if that's possible for me)
2) Try and get into my dream JC : VJC
3) Sustain my Gold for NAPFA
4) Shed some fats from my thunder thighs
5) Look fab for Prom =)
6) Attain Gold with Honours for our SYF this year (GO ATC!!)
7) Get into some course like dancing or an instrument
8) Serenade somebody...
9) Always be there for all my good friends
11) Be a better person
12) Buy more clothes (need a better wardrobe)
13) Get my tonsils removed!!
14) Study hard, hand in all my homework some-what on time
15) Break my party curse
16) Make as many people smile as possible
17) Bake something edible
18) Perform something OTHER than drama on stage
19) Give as much love as possible (to Him especially)
20) Improve my badminton and master my Super Smash
21) Start getting good at Tennis
22) Make a lasting impression on Anderson (in a good way)
23) TRY my best to stay positive even when things get really rough
I hope that 2007 will be a great year for everyone. I know that this post is probably a little too mushy and soft. But I mean every word I said. Work hard, play hard, people!
HAPPY NEW YEAR!!!!